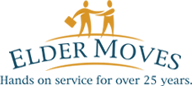 ... moving towards tomorrow
To receive our e-newsletter, please enter your information in the form below:
"Elder Moves handled my transition with professionalism and compassion. I'd recommend them to anyone."

--Margaret W.

"Over the years, we've become a forum for change and discussion. It's a great way to give back to a community that has so much to give."

-Mary Ann Yates, Founder & President

"I had so many questions and Elder Moves had the answers that I don't think I could have found anywhere else."

--James C.

Moving Towards Tomorrow – "Moving towards tomorrow" can mean many different things depending on your needs. Is it a relocation? A home modification? Care management evaluations? Or any number of new options currently available?

Elder Moves is a network of resources and services dedicated to meeting the transitional needs of our clients and their families. We realize that any transition requires change. But change doesn't have to mean confusion and unknown territory. We've spent over 20 years anticipating needs and having solutions in place when they arise.

Elder Moves Services Include:

Decorating
Home accessibility modifications
Moving and packing arrangements
Decluttering
Compassionate consultation on all aspects of transitioning
Care management evaluation and assistance
Sales and purchasing assistance…and a complete range of services designed to provide comfort in a time of change

 

We truly believe that "Moving towards tomorrow" should be a positive experience. Our goal is to use our resources to make your tomorrow the best one possible.

Contact us today!